Pamaskong Pambata
Pamaskong Pambata
The UPAAS Pamaskong Pambata went to the barangays of San Nicolas, Magalang, Pampanga on 28 December 2010. 50 children, aged 4-7 years old, were gathered at the Little Flower Child Center in downtown Magalang. This was coordinated by our partner, the Sigma Delta Pi (SDP) Sorority of UP Pampanga.
The hosts from Jollibee Dau started the program with games, in which the UP Alumni and SDP members also participated (UP Alumni won!). Jollibee kiddie meals were served, after which the kids were treated to the appearance of the Jollibee mascot, who danced and went around for several photo-ops with the kids. Syempre hindi nagpahuli ang big kids ng UP Alumni sa pagpapa-picture with Jollibee. Individual goodie bags with basic toiletries were handed out to the kids at the end of the program. A big thank you to members who showed up to support the org: Joni and her whole family (minus Paolo), Olive and Martin, Pamaskong Pambata annual attendees and benefactors Jason Rey Santos, Mark Yu and Oliver Pasco.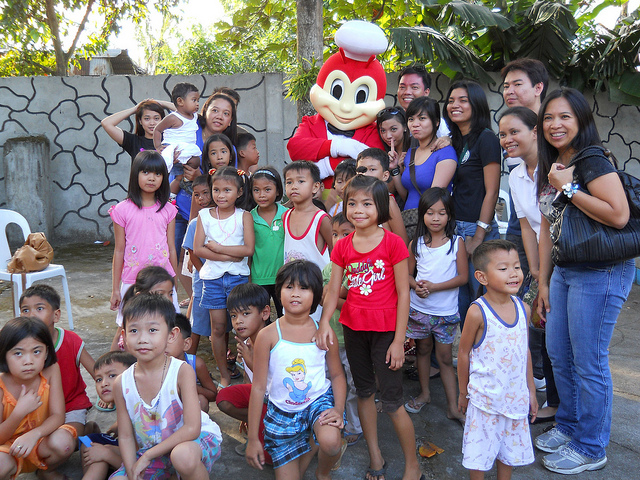 Pamaskong Pang-Lolo at Lola
The following day, 29 December, it was the turn of the lolos and lolas of the Cradle of the Golden Sun home for the aged in Alcala Pangasinan. It is a registered and licensed shelter for older people, 60 years old and above. When I told my sister that we still have some money (a lot actually!) left over from the Pamaskong Pambata, she immediately suggested this home. She has been a volunteer of this home for the last three years, looking for benefactors among family and friends.
There are 16 lolos and lolas currently living in the home, a set of converted elementary school classrooms, about 10 minutes from the town center. The home is managed by Vanessa, a registered nurse, and two staff. One classroom holds the ladies' dorm and another classroom has the men's dorm. Each person has a single bed and a small cabinet and all the other facilities like the dining area, garden and open hall, are shared by everyone. The staff live in another converted classroom.
While we were in the grocery store buying supplies for the home, my sister mentioned one of their most urgent need is a washing machine. Only two lolas are able to help do the laundry and they willingly help do the washing for the other residents. But on rainy days and when arthritis attack, clothes washing cannot be done at all. I told my sister, yes we have enough for a washing machine! When my sister called Vanessa to ask her if they would like to have a washing machine, hindi na nakasagot si Vanessa kasi tumatalon na daw sya sa tuwa.
With the money left over from the donations, we were able to buy a 6kg washing machine and spin-dryer, 5 sacks of rice, biscuits, adult diapers and personal toiletry items. Since they rely on donations only, they were very happy to see the rice sacks, as one sack can last them up to 15 days only.
The residents graciously received us in their hall, where they sit all day if they cannot tend to their vegetable garden. One lola entertained us by singing Manang Biday and Bahay Kubo. Some of the lolas were glad to have someone to talk to and I learned some of the sad stories that brought them to this shelter. Some of the residents were too weak to go out that day and we found them lying on their beds in the dorms. One lola was from the Visayas and she enjoyed exchanging a few words of Cebuano with one of my sisters who lived in Cebu for a year.
When we said goodbye, one of the lolas said she hoped she will see us again but she knew we could not promise. Some of the original residents have passed away through the years that my sister has been volunteering, some faces we probably will not see in our next visit. But for one afternoon, and the next few weeks, the UPAAS has contributed to making what is left of their lives a little easier.
Pamaskong Pambata Part 2
The DSWD Lingap Centers in Tarlac are in two separate buildings. The girls' home is in Tarlac City, just behind the Provincial Hospital. The boys' home is in San Juan de Mata town, just along the main highway. The centers take care of former streetchildren, abandoned and abused boys and girls aged 7-16 years old. The children come from all over central Luzon, from the provinces of Nueva Ecija, Nueva Vizcaya, Tarlac, Pampanga, Zambales and Pangasinan.
When I called to ask if we could donate clothes, toys and books for younger children, I was told they don't take care of children below 7 anymore. But they do hold these kids in the Lingap Center for a few days while waiting to be transferred to another regional Lingap Center for 0-7 years old and I was told that they do need clothes and toys. So Winnie's donations of clothes and toys for girls below 7 years old were gratefully accepted at the girls' home. A majority of the residents in the girls' home have disabilities that necessitate special care which their poor families cannot afford, some have been abandoned or abused by their families.
The rest of the donations went to the boys' home. One of the house parents, Mr Antonio Ancheta, received us and he was very thankful for the clothes and books. He mentioned that the house parents would like to teach basic reading to the boys who do not go to school and the books will be helpful for beginner readers. The home has around 30 boys living in the home, with 15 of them in the 7-10 age range. Some are abused or abandoned and some are former street children. There are a few children who are involved in custody cases so it was not allowed to take photos of any of them.
I learned that the children have a food subsidy from the government of P45 per person per day. This is supplemented by regular donations of rice from a furniture shop in the city. Mr Ancheta said their biggest need are benefactors for the boys who would like to go to school but cannot afford the jeepney fare and lunch money, an average of P2,500 per month. Usually, the home can ask the schools like the Tarlac College of Agriculture and the Tarlac State University to waive all or some of the school fees. If the boys do not want to go to school, they are assisted in looking for employers so they can continue to live in a dignified and honest way. Mr Ancheta was happy to recount that there are one or two former residents who are now gainfully employed, who come back to say thank you to the house parents and help out as benefactors to some of the boys. We all have our own ways to give back, in a small way or more generous ways, we are all blessed when we share. The Pamaskong Pambata organisers would like to thank all members who gave and continue to give to our programs for our kababayans. Here's to a better year for us, our families and the Philippines!