UPAAS Meets UP President Pascual
UPAAS Meets UP President Pascual
By: Chi Ching
A few UPAAS members representing the academic and business community gathered on 8th March 2012 at the National Institute of Education, Nanyang Technological University (NIE/NTU) to listen to UP President Alfredo V. Pascual briefing on the U.P. Strategic Plan 2011-2017. He was assisted by Dr. Elvira Zamora, VP for Development, who highlighted that the main vision of this plan is "ONE UNIVERSITY, ONE U.P." where all UP system share resources and adopt common standards.
UP Pres. Pascual with some UP Officials and UPAAS members
V.P Zamora explained the three (3) main thrusts of the UP Strategic Plan: 1) Research & Creative Work; 2) Education; and, 3) Public Service. Under the 'Research & Creative Work', UP will be transformed into a research university. This is to strengthen the UP research publications in the International Science Index (ISI) Journal. Under 'Education', UP is ahead in Asia in providing a broad-based education and is expected to continue to provide a broad-based education. Under 'Public Service', UP is envisioned to contribute to the government and the environment.
The above thrusts will not be complete without the focus on 'Academic Excellence and Operational Excellence'. UP will strive to maintain academic excellence as its main priority. On the operational excellence, it is expected that UP will have administrative efficiency and financial sustainability.
So what is the role of overseas UP alumni? How can we in Singapore contribute to UP? Pres. Pascual hopes that the 'Pabalik-balik UP Alumni ng Bayan' program will encourage more Filipinos abroad to have joint collaboration with UP. in terms of research and expertise and support financially by contributing to the alumni fund. It is also hoped that those in the academic community communicate directly with relevant U.P. officials on the scholarships available in Singapore so that more UP alumni in the Philippines can avail of these. It was also noted that Singapore has one of the best UP alumni who have contributed to the community. It is hoped that further acknowledgement of this should be done in the UP system. UPAAS can help in this endeavor by compiling a list of accomplished alumni in Singapore.
Pres. Pascual was pleased to note that UPAAS has published a MetroCuisine recipe book, a project for UPAAS Endowment Fund for Education, as part of its scholarship programme. UPAAS Pres. Ed Vinluan presented UP Pres. Alfredo Pascual a copy as token of appreciation for meeting UPAAS.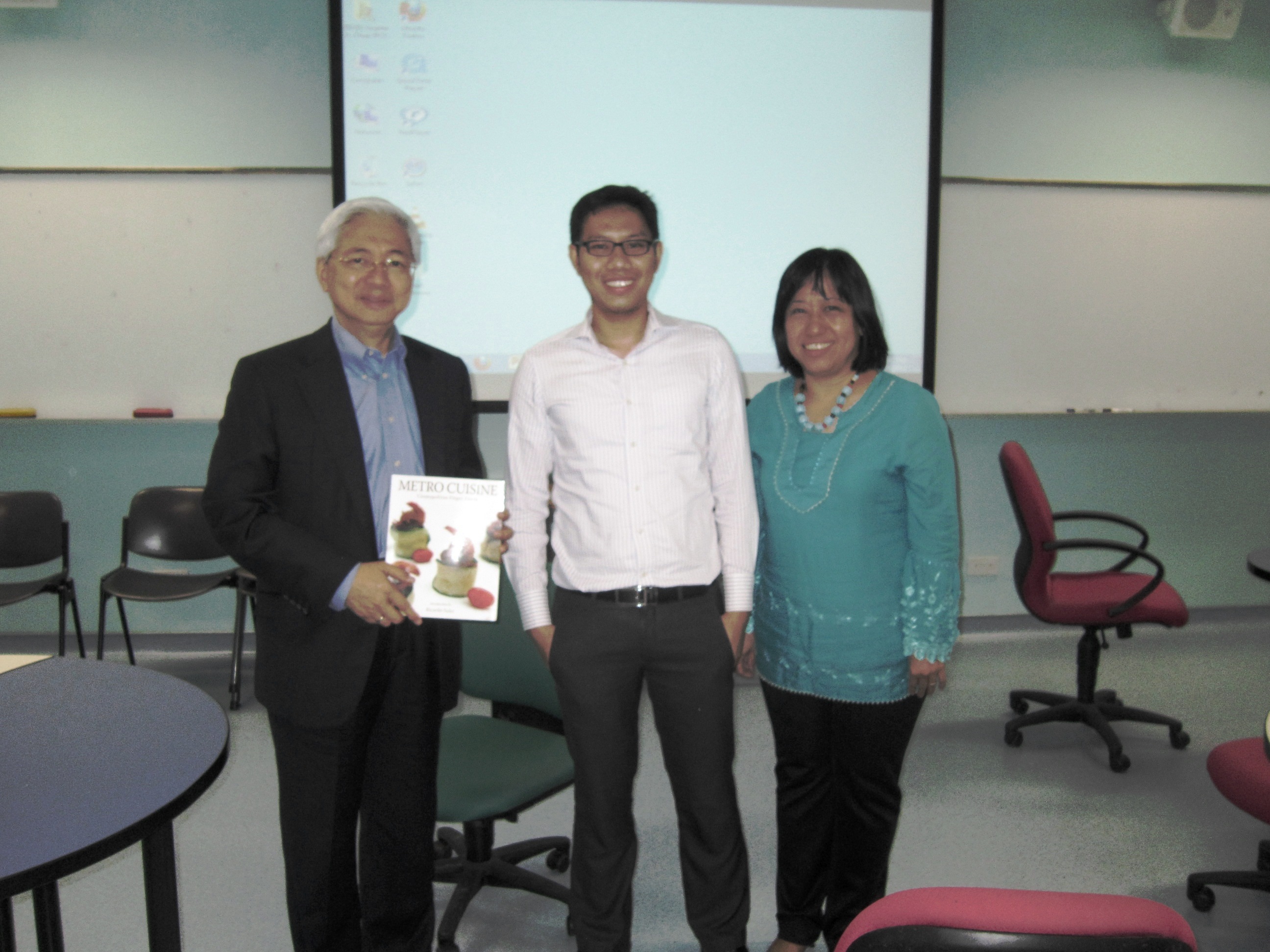 UP Pres. Pascual presented with Metro Cuisine book by UPAAS Pres Ed Vinluan and Minerva Lau
Special thanks to Dr. Vicente Reyes, Dr. Gene Navera and Eric Tinsay Valles for making this possible.
Present:
UP: Dr. Elvira Zamora – VP for Development; Dr. Aura Matias – Dean College of Engineering, UPD; Dr Agnes Rola – Dean College of Public Affairs and Development, UPLB
UPAAS & UP grads: Dr. Vicente Reyes, Eric Tinsay Valles, Edward Vinluan, Dr. Alexander Godofredo Urbano, Dr. Geoffrey Chua, Marc Vincez Zara, Cristy Vicentina, Minerva Lau, Chi Ching, Dr. Eduardo Araral Jr.