Holiday Season 2012 Bonding Time!
Holiday Season 2012 Bonding Time!
Greetings to all UPAAS Members!
As the cool winds of Christmas approach us, we would like to invite you to UPAAS get-togethers that will surely warm your hearts:
Shooting Stars
(an Art Tambayan)
Shooting Stars is part of Philippine Art Trek, a project of the Philippine Embassy in Singapore. The exhibit will showcase the works of some of the most promising Filipino artists of Artesan GAllery + Studio.
Links:
~~~
Paskong Pinoy SG
This December, Christmas here in Singapore will be enriched by one of the Philippines' finest symbols of the Christmas season: the giant lantern from Pampanga.
UPAAS partners with Paskong Pinoy SG, a group of Filipino volunteers in Singapore who dreamt of bringing a giant Filipino lantern to Singapore, as a beacon of hope to all Filipinos and of friendship to Singaporeans and foreigners living in the Little Red Dot.
If you feel the Christmas spirit stirring inside of you, Paskong Pinoy SG is still in need of helping hands, feel free to assist in any way you can. Kindly contact Loida at loidacorpus[at]yahoo[dot]com, Nette at nannette_ratilla[at]yahoo[dot]com or Cristy at vicentinacm[at]yahoo[dot]com if you believe in this project, and share it with your Filipino friends who might also wish to help.
Link:
~~~
Kumukutikutitap Krismas ng UPAAS
Christmas party time! Let's all share the Christmas spirit of festivity and togetherness as a family.
Bring on the bright colors of Christmas! Join the fun, food, freeflow drinks, buffet dinner, raffle draw, parol and party! Bring your friends and loved-ones.
Please respond to our event invite at Facebook. 🙂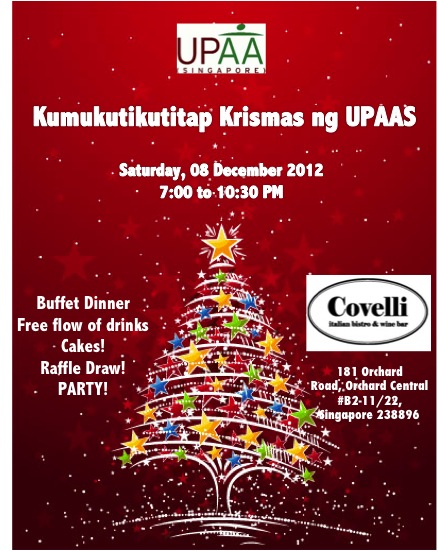 Link: