Players from 32 PHL universities join badminton competition for Singapore OFWs
Players from 32 PHL universities join badminton competition for Singapore OFWs
Originally published in the GMA News Website in an article by Dazzelyn Zapata. Link: https://www.gmanetwork.com/news/pinoyabroad/news/671337/players-from-32-phl-universities-join-badminton-competition-for-singapore-ofws/story/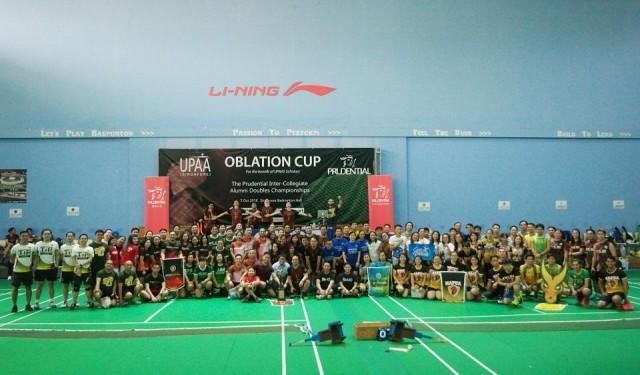 This year's Oblation Cup in Singapore had 218 participants from 32 universities. Photo: Ralph Emerson Dacles
The alumni of at least 32 Philippine universities last week participated in the biggest sporting event for Filipinos based in Singapore.
The Oblation Cup Inter-Collegiate Badminton Tournament, which requires players to represent their schools back home in the Philippines, classified the 218 players into two categories—men's doubles and women's doubles—and three skill levels.
Along with the alumni, volunteers and local and foreign enthusiasts also joined the competition, which was held at the Singapore Badminton Hall on October 7.
A partnership between the UP Alumni Association Singapore (UPAAS) and UP Alumni Badminton Team–Singapore for the benefit of poor but deserving scholars from the Philippines, the Oblation Cup received wider support from the Singapore community in just its second year.
"We have [32] schools who participated in this year's Oblation Cup. Last year we had 24. We were surprised as this is only our year two and sumobrang dami yung mga tao," said UPAAS president Anthony Meriel Garcia.
"Siguro magiging two days na kami next time. Two years na at ang support talaga nito eh ang mga scholars natin back in the Philippines."
Garcia added that they were happy they were able to tap groups such as their partner UP organization in Singapore for support.
Leslie Anne Aguirre, president of the UP Alumni Badminton Team – Singapore, admired the show of solidarity among the participating schools. "It's a very healthy competition," she said. "We don't always have a tournament that lets you represent your school while you're in another country. It's something new and something out of the box, so natutuwa din ang mga tao."
What drives the organizers and OFWs who supported the event is its cause-oriented nature.
"So 'yung makukuha naming funds dito, 'yun 'yung ipapang-support namin for the scholars. Every year, we support four scholars: one first year, second year, third year, fourth year. So when the fourth year scholar graduates, we will get another freshman. That's every year. But then they have to prove that they're deserving, they have maintaining grades and other requirements," Aguirre said.
The 109 pairs of players came from the following Philippine universities:
Adamson University (ADU)
Adventist University of the Philippines (AUP)
AMA University
Ateneo de Manila University (ADMU)
Bicol University (BU)
Bulacan State University (BSU)
Catanduanes State University (CSU)
Cebu Institute of Technology University (CITU)
Central Colleges of the Philippines (CCP)
Collegio de San Juan de Letran (CSJL)
De La Salle University (DLSU)
Don Bosco Technical College (DBTC)
Dominican College-San Juan
Far Eastern University (FEU)
Holy Name University (HNU)
Mapua Institute of Technology (MIT)
Pamantasan ng Lungsod ng Maynila (PLM)
Polytechnic University of the Philippines (PUP)
Rizal Technological University (RTU)
St. Louis University (SLU)
Silliman University
Technological Institute of the Philippines (TIP)
Trinity University of Asia (TUA)
University of the East (UE)
University of Immaculate Concepcion
University of Mindanao (UM)
University of Northern Philippines (UNP)
University of Perpetual Help (UPH)
University of the Philippines (UP)
University of Sto. Tomas (UST)
University of San Jose Recoletos (USJR)
West Visayas State University (WVSU)
Polytechnic University of the Philippines (PUP) was named overall champion with the highest standing among all levels, unseating 2017 overall champion Mapua Institute of Technology (MIT) by a small margin.
This year, they also introduced a social media contest for the wittiest school "love plug," which gained a lot of attention and were widely shared within the Singapore-based Filipino community.
AMA University won with their catchy meme: "Pag sinabi sayo ni Crush na ayaw ka niyang masaktan, ang isagot mo: 'Trust me, AMA-Lover.'"
PUP came in at close second with "Magmahal ka ng taga-PUP. Kapag ika'y natipuhan, siguradong ipaglalaban. Lagi kang PUPusuan, PUProtektahan. Kahit nasaan ka man, ika'y PUPuntahan. Magsisikap, magPUPundar para sa inyong kinabukasan." — BM, GMA News