Metro Cuisine: Cosmopolitan Finger Foods
Metro Cuisine: Cosmopolitan Finger Foods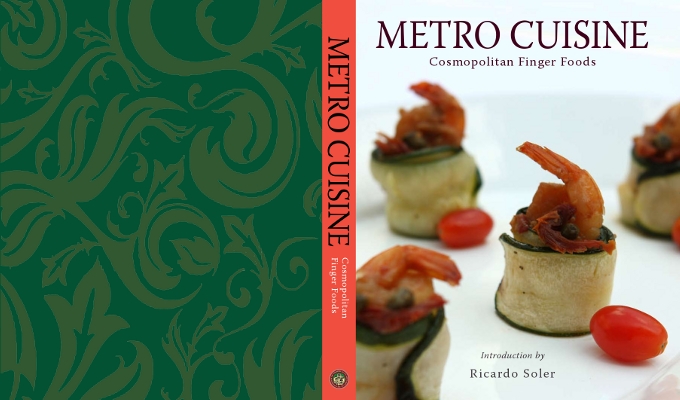 Metro Cuisine: Cosmopolitan Finger Foods is a colourful, flavoursome and unique recipe book that reflects the present day cosmopolitan Filipino who retains his cultural roots while embracing the enriching influences brought by other cultures.
It showcases the vibrant Filipino food culture that brings nourishment to the body, mind, heart and soul. It also embodies the harmonious working relationship of Filipinos and Singaporeans.
Created and spearheaded primarily by a group of Filipinos residing in Singapore, this recipe book came to fruition because of the generous funding from the Lee Foundation and the availability of the expertise of two prominent Singaporeans. Mr Goh Eck Kheng (publisher and book designer) and Mr Christopher Tan (food writer and consultant) contributed their time, talent and technical know-how to champion the Filipino culture and character through food.
This recipe book, which was more than two years in the making, features 65 finger food recipes that were contributed by UP alumni members, Filipino dignitaries, Singaporean friends and friends from various countries, from the Filipino Muslim Converts of Singapore and from one of the many overseas domestic Filipino workers here. This list of contributors presents a full circle of the levels of cooperation that cut across cultures, organisations, sectors, religions and nations.
Metro Cuisine was launched on Aug 27 2009 in partnership with the Philippine Embassy in Singapore and the Singapore Art Museum. It is also one of the official activities commemorating the 40 years of diplomatic relations between the Philippines and Singapore.
The proceeds from the sponsorships and donations with the book as a token, are dedicated to the UPAAS Endowment Fund for Education, as part of its scholarship programme. The programme is on its fourth year, and has just awarded its 4th UPAAS scholar taking up full-time our-year undergraduate degree course by providing tuition and stipend. Scholarship funding has largely been raised from donations of members and friends of the organisation.
The Endowment Fund aims to support four (4) UP students in any UP Campus at any given time. This is in line with UPAAS objective of supporting the University of the Philippines' vital role in the development of the Philippine society and the Filipino nation while contributing to sustainable poverty alleviation initiatives in our country.
The Endowment Fund will assure the sustainability and stability of the UPAAS Scholarship Programme that is being administered by UP Office of Students and Scholarship Services, and provides tuition and stipend to the poorest of the poor students at UP. This fund, UPAAS' way of giving back to the country and Philippine community, is also a small but constant contribution to meet the previously stated objectives.
HOW TO GET A COPY
Email Metro Cuisine: Cosmopolitan Finger Foods order form to metrocuisine@upaas.org.
The book is also available at PNB (3rd Floor, Lucky Plaza). Look for Cristy or Jonnel.

OTHER DOWNLOADS
The speech delivered by the guest speaker, Mr. Michael Koh, Chief Executive of Singapore National Heritage Board during the book launching of the Metro Cuisine: Cosmopolitan Finger Foods.

SPONSORS
Lee Foundation
Cardinal Porcelain Philippines
Philippine National Bank
Manny Baldemor
Singapore Art Museum
Bank Julius Baer
Mrs Josefina R Pulido
Mr & Mrs Jose Perdigon
Photography by Giovanni Odal