Relief for Ondoy Victims – Results
Relief for Ondoy Victims – Results
Dearest Friends,
Last saturday – October 10, 2009, we had completed packing your donations-in-kind. To-date, we have filled 36 boxes of food and clothing, twenty nine (29) of which are on the way to the Philippines. Also, we have gathered  a net amount of S$4,322.00 cash to be donated to the victims of Typhoon Ondoy thru the Philippine National Red Cross (apart from the cash collected by/ deposited to UPAAS account).
We extend our gratitude to the kind-hearted people who served us food during the packing, Doc C, Pres Minnie, Jane & Ate Norie; to the sorters and packers especially to our Singaporean friend Eileen and Thai friend Kanokwan; to Joni & Roman for offering your place as our relief depot.
We can't thank you enough for your generosity… and for that we are just simply speechless.
The details of this relief drive can be found on the attachments.
The Organizing Team,
Joni/Guen/Len/Roman/Jogo
PS: We may have missed some people's email address and we need to thank them too for this drive,  would appreciate if you can relay this email.
=======
As of this writing, the scourge of Typhoon Parma caused so many lives in Northern Luzon.  They are also appealing for help.
Attachments

Ondoy Relief Goods Packaging Team in Action: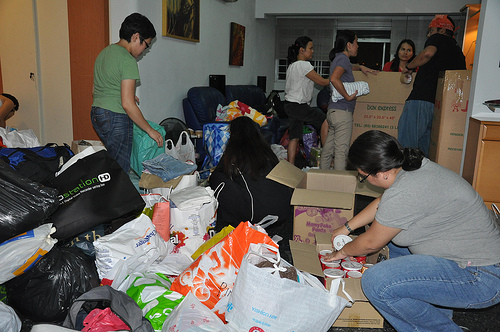 UPAAS volunteers pack relief goods for ondoy victims. View more photos…