UPAAS celebrates Fifteenth Anniversary, Christmas Party.
UPAAS celebrates Fifteenth Anniversary, Christmas Party.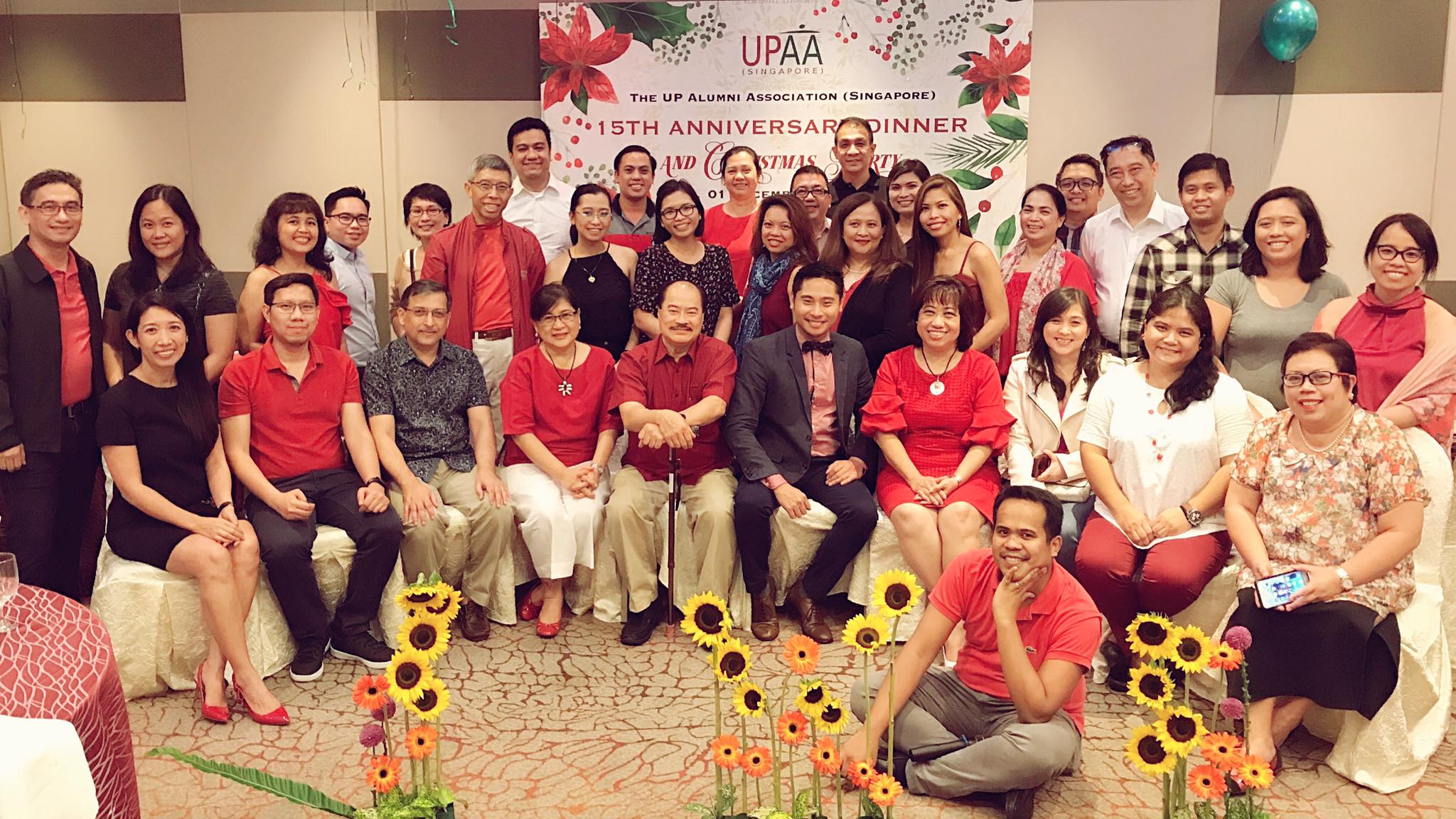 Christmas came early to the UP Community in Singapore as the organization held its fifteenth anniversary and Christmas party celebrations at the NUSS Suntec Guild House, 3 Temasek Boulevard last December 1, 2018.
The celebrations started with the singing of UP Naming Mahal. Ton Garcia, President of the UPAAS, then delivered his welcome remarks touching on the legacy of the organization during the last fifteen years. Afterwards, the champagne opening ceremony was led by Rosa Young followed by a toast from Philippine Consul General Vic Dimagiba.
A video greeting from Prof Wendell Capili (Director, University of the Philippines Office of Alumni Relations), UPAAS Presidents Raul Racamora and Mary Ann Chua as well as honorary member Rosario Chi Ching was also shown. UP College of Music alumnae violinist Criselda Peren and flutist Jennifer Santos indulged the audience with Christmas carols during their intermission number.
Highlighting the celebrations was a testimonial from Ms Cherry Tumampo, pioneer UPAAS Scholar. She graduated summa cum laude from the BS Molecular Biology and Biotechnology program in 2012 and is currently pursuing her medical degree through a double MD-PhD program at the UP College of Medicine.
Members of the society then battled out on UP trivia in a game of Kahoot. George Valenzuela took home the top prize of $100 worth of Suntec Vouchers (c/o Ms Portia Ho) while Criselda Peren and Eliz Cuenco each got $50 vouchers from PNB (c/o Ms Cristy Vicentina). Raffle prizes (through sponsors Minnie Lau, PNB (through Ms Cristy Vicentina), LBC (through Sharon Tordesillas), Rajah Travels and Royal Plaza on Scotts (through Ms Vien Cortes)) were also given away with the top prize of a 2-day stay in Bohol being won by Ms Portia Ho.
Dr. Allan Larona served as master of the ceremonies.