UPAAS paddles for inclusivity at IBM 2019
UPAAS paddles for inclusivity at IBM 2019
by: McRhon Banderlipe I
After a one-year absence, UPAAS Bakunawa, an informal recreation group formed by dragon boat enthusiasts and professionals, participated again this year at "Isang Bangkang Malaya 2019" (IBM). IBM is an annual dragon boat tournament organized by the Filipino Dragons Singapore (FDS) as part of the activities for the Philippine Independence Day celebration in the city-state. This was held at Kallang Riverside Park last Sunday, 30 June.

There were fifteen (15) teams which competed this year, the highest number of participants in the history of IBM. The program started with an opening remark from Philippine Embassy Singapore. A community warm up and stretching, cheer dance competition and safety briefing spiced up what seems to be an exhausting and tiresome day.
Paddling Together
This year, UPAAS Bakunawa paddled together with members of Race2Share – a non-profit organization dedicated to promoting the welfare of our domestic helpers in Singapore through sports and recreation. The organization was founded by fellow UP alumnae Jen Macapagal. Carrying the name "R2S Bakunawa" as the official team name during the tournament, the team comprised members of UPAAS Bakunawa, Race2Share, and TJ Sea Hawk Dragonboat Club. R2S Bakunawa competed in the Champions' Cup category which is composed of teams whose members already had significant competition experiences. The Race proceeds of the IBM 2019 will go to the "Send the Light Orphanage" and "Carmen West Central Elementary School" both located in the Philippines.
Scoring Little Victories with a Bigger Meaning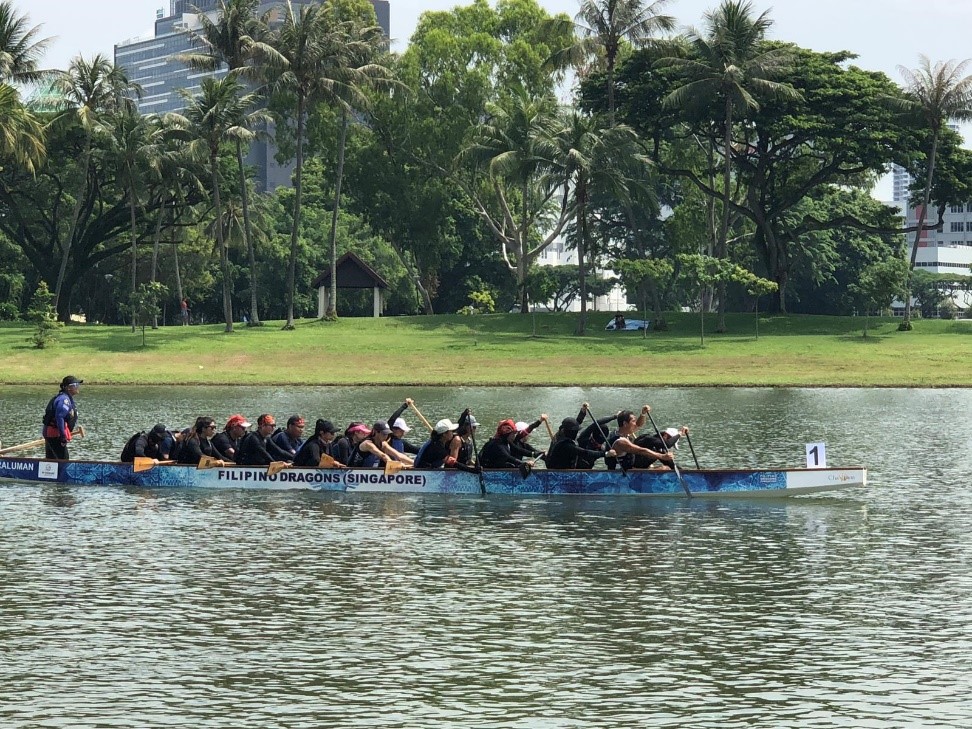 R2S Bakunawa successfully managed to meet record timing in less than one minute for the 150m twice, (00:56 seconds and 00:55 seconds, respectively) despite the lack of adequate time to prepare for the match.
Yet the bigger victory of it all was the chance to show the community that IBM provides a space to build camaraderie and fellowship with everyone, regardless of one's profession and background. This year, R2S Bakunawa paddled for "diversity, inclusivity, solidarity and unity". The tournament became a venue for these meaningful conversations which took place among all the members.
Fulfilling, Inclusive and Satisfying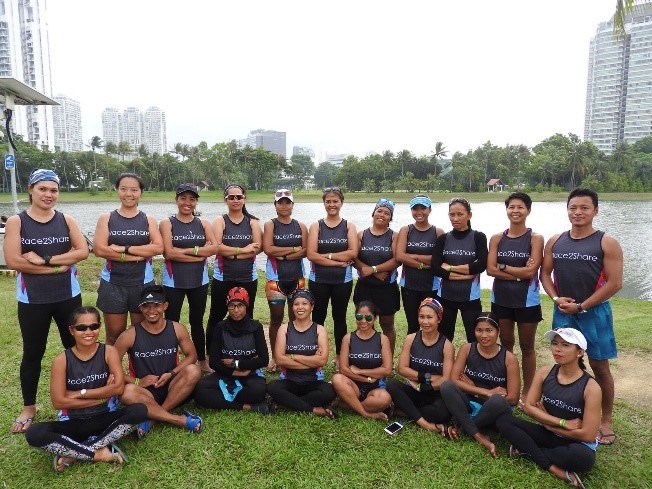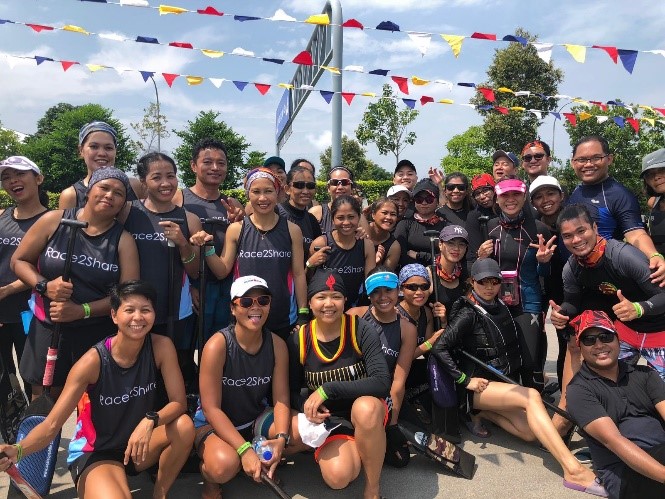 Participating in the tournament was a realization of a UPAAS and Race2Share collaboration. Not to mention that the entire experience was a feast in itself. Laughter was contagious among every member who shared their other talents like cooking, storytelling and photography. It was also a feast for the palette too, as everyone shared all the delicious food prepared by the members.
The day also proved to be a heartwarming day for our "ates", as we fondly call them, whose supportive employers dropped by to cheer them on.
R2S Bakunawa was a collaboration, not just to paddle together in the waters – but to paddle together to building a community which remains accepting and inclusive for every UP alumnus, for every ate and for every local here in Singapore.